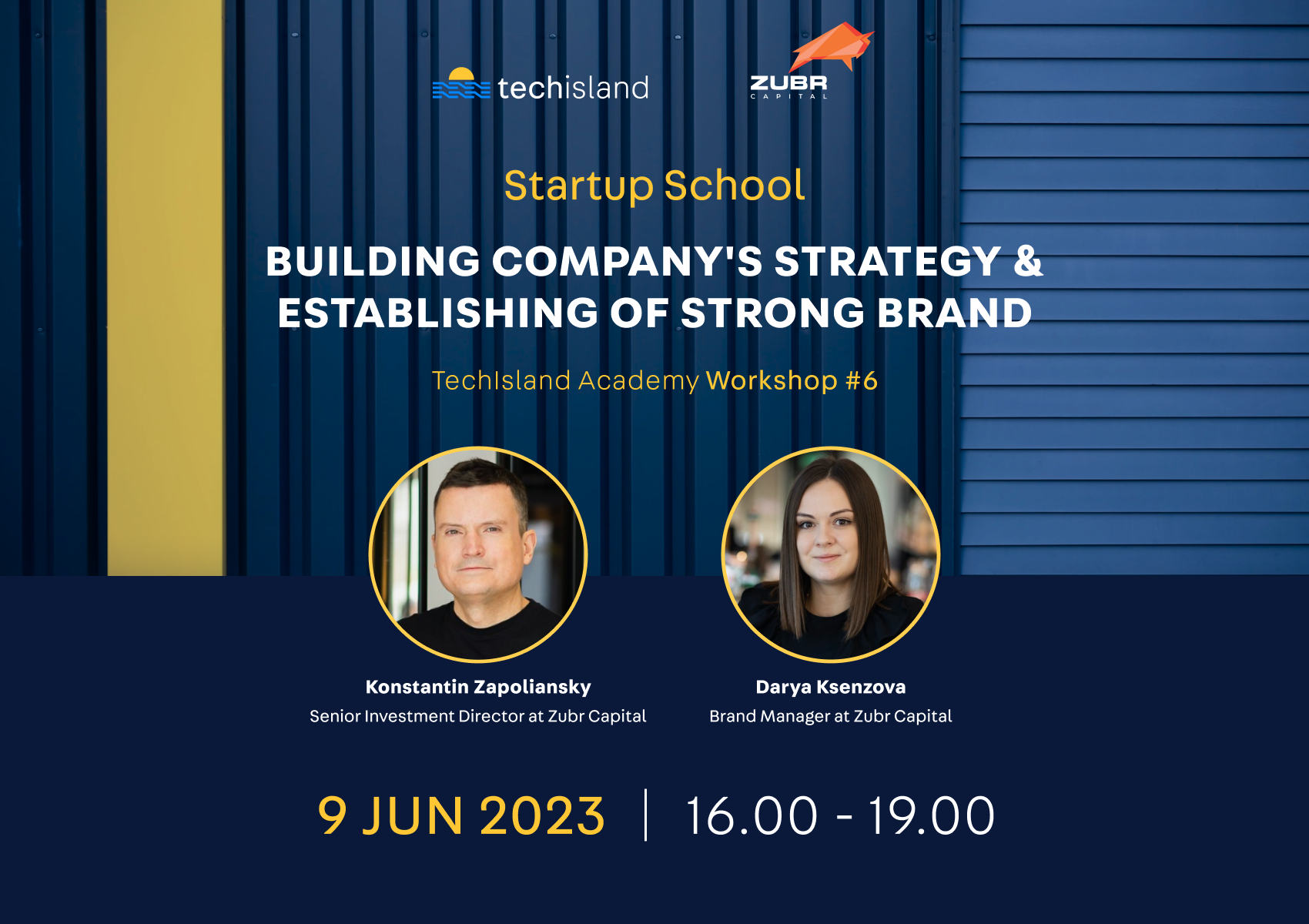 TechIsland is proud to announce the launch of "Startup School," an innovative workshop series designed to empower startups in Cyprus. This groundbreaking initiative, powered by Zubr Capital, a renowned name in the global Venture Capital landscape, offers an unmatched opportunity for learning, growth, and collaboration. 
The first workshop will take place on the 9th of June, at 16:00, in Limassol and it is titled "Building a Robust Company Strategy & Establishing a Powerful Brand". 
Led by industry experts from Zubr Capital, this educational event promises invaluable insights into developing a strong company strategy and creating a compelling brand. More specifically, our esteemed speakers Konstantin Zapoliansky, Senior Investment Director, at Zubr Capital will take you on a journey of building a company's strategy, explaining everything from market analysis to financial models, while Darya Ksenzova, Brand Manager at Zubr Capital will uncover the secrets of establishing a robust company brand, from positioning to communication platforms. 
General Manager of TechIsland, Marios Giorgoudis stated: "As TechIsland we are committed to our mission to position Cyprus as a Tech Hub and for this we are thrilled to be offering this unique opportunity for startups in Cyprus. These events will offer unparalleled practical knowledge, networking opportunities with Venture Capitalists, and the chance to connect with fellow innovative minds. Thank you to Zubr Capital for their valuable partnership." 
Founder and CEO of Zubr Capital, Oleg Khusaenov said: "Having invested in technology companies for a decade, Zubr Capital has witnessed several of its investments becoming unicorns. As experienced investors, we see that now, thanks to TechIsland, a unique community of technology companies is being formed in Cyprus. With the right competencies and investments, these businesses can become successful all over the world. Our team at Zubr Capital is enthusiastic about sharing our acquired knowledge and experience to support the growth of Cyprus-based IT companies. We are confident that the Tech Island initiative will produce impressive outcomes and position Cyprus as a magnet for exceptional talent ". 
Admission to the workshop is entirely FREE. Interested participants should secure their spots by registering at https://bit.ly/3WsJxGE.