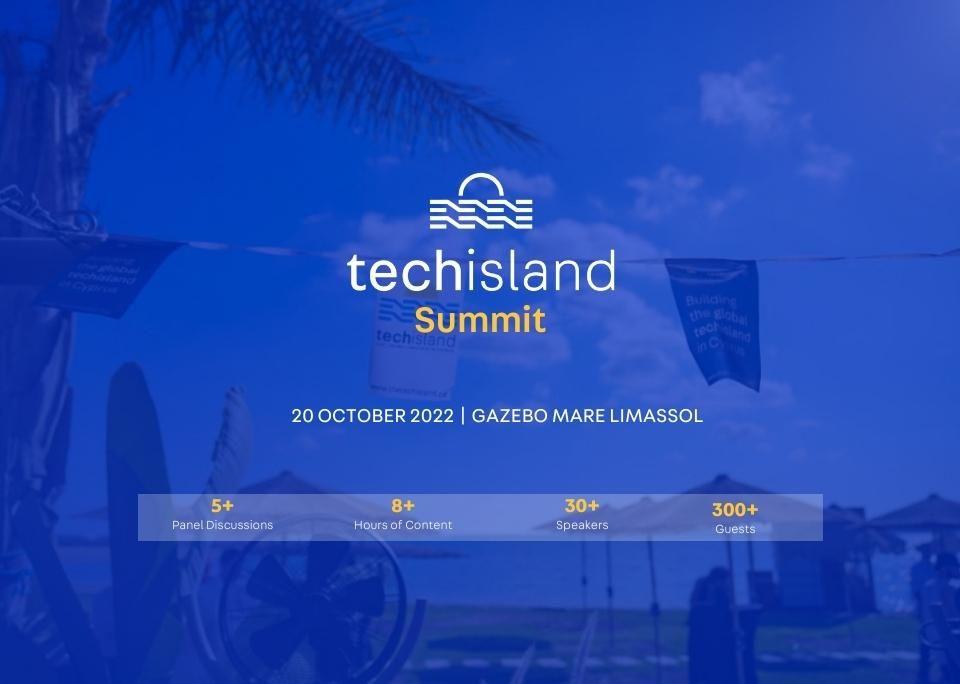 TechIsland is excited to announce the 2nd TechIsland Summit as part of the Reflect Festival. The Summit will take place on the 20th of October 2022 in Limassol, at Gazebo Mare.
The TechIsland Summit brings together and engages more than 300 prominent government, technology, business and thought leaders centred around the most relevant trends sparking, disrupting, and driving innovation and economic growth today. It is an annual conference organised by TechIsland - a non-profit IT Association - established in 2021 to turn Cyprus into a world-class destination for talent.
TechIsland Summit is an opportunity for foreign investors, international & local companies and government stakeholders, ecosystem players to have an open dialog about obstacles and opportunities for Cyprus to become a Tech Hub.
After successfully holding the TechIsland Summit last year, The Association aims to measure the progress and talk about the fruitful ecosystem partnership results of this year.
This October, we will discuss the most recent issues and concerns slowing Cyprus's progress towards becoming a technology hub. We will host discussions on tech and innovation policies, ecosystem development, venture funding, obstacles and opportunities in adopting digital assets, and other trending subjects, such as affordable housing for employees, educational opportunities for new generations, and financial systems for the operational activity of tech companies.
During the TechIsland Summit, TechIsland, together with co-initiators CYTA Business, ASBIS, and iClub, will announce the release of the Cyprus Ecosystem Map, which will provide information on all of the region's technology companies, from large corporations to small startups, as well as information about funding and support programs for the area. Furthermore, Investors, local founders, and government stakeholders will be able to locate all of the Cyprus tech ecosystem's companies, funding options, workspaces, and job listings. This open-access database has been created to help connect the ecosystem: entrepreneurs with investors and corporations, provide real-time data on the health of the country's innovation economy, and publicise Cyprus's tech sector globally and locally.
The Rooftop Networking event will be the final part of The TechIsland Summit. It will offer attendees a chance to engage with the prominent speakers and the TechIsland Member companies, along with the speakers and VIP guests of Reflect Festival.
"We invite you to participate in the TechIsland Summit and receive the universe of trend information and invaluable insights. We promise it will be exciting and unforgettable", stated Marios Giorgoudis, General Manager at TechIsland.